Ecosystem Health Report
Summary Of results: 2017-2018
In 2017-18 the Fitzroy Basin received an overall C grade for aquatic ecosystem health, which is consistent with the previous year. Fitzroy catchment, Upper Dawson, Comet, Lower Isaac and the Estuary were awarded B grades, with all other catchments awarded C grades. Ecosystem health has remained stable overall in 2017-18 compared to 2016-17. The condition of Comet, Fitzroy, Lower Dawson and Lower Isaac catchments and Estuary Zone improved. There were slight decreases overall for ecosystem health for the waterways of Callide, Connors, Mackenzie, Nogoa, Theresa, Upper Dawson and Upper Isaac. Lack of ecology data across the Basin has been identified as a contributing factor to changes in results each year.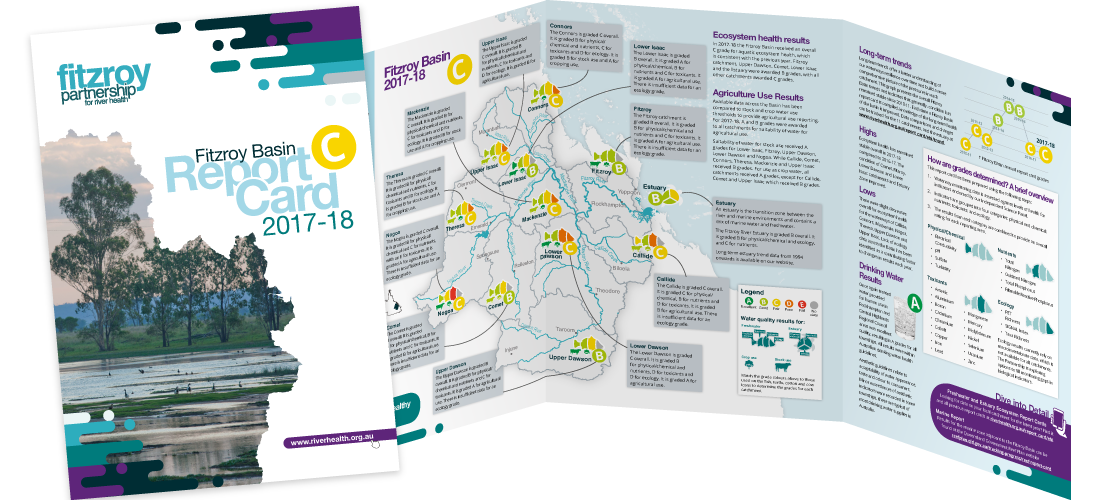 Facts about the Fitzroy Basin
At 142 600 km2 the Fitzroy Basin is the largest catchment on the eastern seaboard. It covers more than a third of the land that catches water and drains to the Great Barrier Reef. Named after New South Wales (NSW) Governor, Sir FitzRoy, the basin is dissected by the Tropic of Capricorn and is characterised by a humid coastal and semi-arid inland subtropical climate.
The basin is separated into six major river catchments: Isaac/Connors, Nogoa, Comet, Mackenzie, Dawson and Fitzroy, which flows into the ocean at Keppel Bay. This has been further separated into 11 waterway reporting catchments.
Seasonal irregularity is a defining feature of the basin, with long dry spells often followed by intense wet season rainfalls. Mean annual rainfall varies from 600 mm in the west, to 800 mm in the east, peaking at 1000 mm in northern coastal area. Due to its extreme size and fan like shape, the Fitzroy Basin is capable of producing large flooding. The highest recorded flood occurred in 1918.
Around 120,000 people live in the basin, with most living in the urban centre of Rockhampton. Current land use across the basin is 81% for grazing; 6% for cropping; 6% for conservation; 5% for forestry; 1% for urban; 0.5% for mining and 0.5% for irrigation.
The Fitzroy Basin is home to a number of rare and threatened species, and internationally significant wetlands. It has the greatest diversity of native freshwater fish in Australia and supports commercial and recreational fisheries significant to Queensland.
The Fitzroy River mouth marks the beginning of waters described as the Great Barrier Reef World Heritage Area. Flood plumes discharged from large floods extend east across the Capricorn Bunker Group and north of Townsend Island, covering an area greater than 10 000 km2.
Plumes from average floods inundate Keppel Bay. Keppel Bay is home to reefs with some of the highest coral cover of any within the Great Barrier Reef. These inshore reefs are at risk from the impacts of sediment, nutrients, and chemicals, and this risk is exacerbated by climate change.