None
Low
Minor
Moderate
Major
Floods
The above map shows the maximum flood height recorded at the most downstream site for each catchment for each water year.
Due to its immense size and fan-like shape, the Fitzroy River catchment is capable of producing severe flooding following heavy rainfall events. Its major tributaries, the Dawson, Mackenzie and Connors Rivers rise in the eastern coastal ranges and in the Great Dividing Range and join together about 100 kilometres west of Rockhampton. Major floods can result from either the Dawson or the Connors-Mackenzie Rivers. Significant flooding in the Rockhampton area can also occur from heavy rain in the local area below Riverslea.
The Fitzroy River at Rockhampton has a long and well-documented history of flooding with flood records dating back to 1859. The highest recorded flood occurred in January 1918 and reached 10.11 metres on the Rockhampton gauge. The most recent major flood for the Fitzroy River spanned over the end of December 2010 and early January 2011. The Fitzroy River reached 9.20 metres on the Rockhampton gauge. This period also provided the towns of Emerald, Rolleston and Theodore with their largest floods on record. The figure below shows the significant flood peaks which have occurred at Rockhampton during the last 150 years.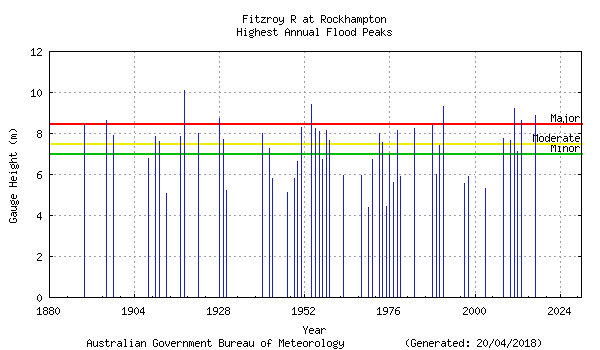 Source: Department of Natural Resources and Mines