Upload data now
MyWater Community Portal
We invite the community – individuals, schools and community groups - to get involved in local waterway monitoring. Freshwater is our most valued and sought after renewable resource. Changes in land use have impacted the natural flow of waterways in the Fitzroy Basin, with sediment, salts, nutrients and toxic chemicals changing the health of our rivers and streams.
We have a range of resources available to support the community to test your local waterways and increase the awareness of waterway health. Use your school or science club equipment, or get in touch with us as we provide a Care for Creeks bursary annually to provide equipment to support testing of the Basin's waterways. Increased awareness of the health of our waterways is important for the entire community to understand the impacts industries and communities have on our valuable rivers and streams.
Our aim is to increase the data entered by the community into our MyWater portal, so we can have one of the largest citizen science water data samples in Australia! You have to start small to grow big, so help us reach our goal of 217 data samples!
How to sample – Get involved in local waterway monitoring today!
What you will need:
Bucket
Sorting trays
Scoop net with handle
Magnifying glass
pH test strips
salinity meter
Turbidity tube
Fish traps
Spoons/pipettes
Information guides for waterbugs, fish and weeds - see resources for downloadable guides
Community Sample Goal
Currently there are 220 samples that have been collected by various community monitoring groups throughout the Fitzroy region.
This is 101% of our sampling goal.
Resources
Enter your data directly into the MyWater community portal, or if you're out in the field download this guide and use it to support your water monitoring.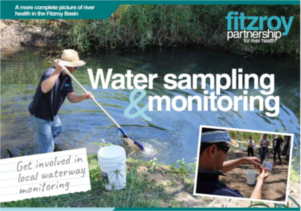 Water Monitoring in Action
We are proud of the range of schools, groups and individuals comitted to monitoring data in the Fitzroy Basin. These include winners of our annual Care for Creeks Bursary:
Central Highlands Cotton Growers and Irrigators Association/Central Highlands Science Centre
Gundoo Junior Rangers
Marlborough State School
Wowan Dululu Landcare Group
Lighthouse Christian College, Rockhampton
Central Queensland Christian College, Rockhampton
North Rockhampton Girls Guides
Total Recorder Sample Contributions
Partnership Resources
Fitzroy Partnership for River Health is proud of its work in providing a more complete picture of river health in the Fitzroy Basin. We not only work with our valued Partners but also engage with the community to foster greater awareness of waterway health. We have a Mindi the Barramundi Mascot and new Maisy the Mayfly large-scale board game to support the community in waterway health awareness. If you have a use for these resources at your school or next community event, please get in touch at leigh.stitz@riverhealth.org.au
Caveats for use
The results displayed above are based on data that has been collected by enthusiastic and dedicated members of the community. The MyWater portal and associated results are provided for educational and awareness raising purposes. No quality control measures have been applied to the data. As such the data is not fit for use beyond this stated purpose. There is no training requirement for community members or groups to enter data to the MyWater portal. Community members or groups using this site and conducting associated waterway testing do so at their own risk. As such, community members and groups must ensure they have appropriate levels of insurance and conduct activities according to their own risk and workplace health and safety procedures.
If in doubt, don't test your local waterways!