Upload data now
MyWater Portal
Are you interested in the environment and want to do something to help? Statistics show that Australians are increasingly interested in learning more about their impact on the environment and how they can contribute to more sustainable living.
But how can you help?
There is a growing movement towards citizen science – public participation in scientific research to increase knowledge of the environment. Fitzroy Partnership operates our unique citizen science program; MyWater, where schools, groups and individuals can sample and test their local waterways and upload their results to this MyWater web portal.
Our Science Project Officer can support your group with an education session, or we can loan you one of our Water Monitoring Kits and Water Sampling and Monitoring Guides to help get you started.
Upload your water sampling data to MyWater and help us build one of the largest citizen science water data samples in Australia!
How to sample – Get involved in local waterway monitoring today!
We will supply you with:
Fitzroy Partnership sampling manual (with fish and bug identification guide)
Magnifying glasses
Ice cube trays
Sorting trays
Long scoop net
Bait traps
Conductivity meter
pH test strips
Turbidity tube
Fish traps
Spoons/pipettes
Priority Weeds of the Capricorn Region book
Qld dry tropics grow me instead guide
Citizen Science Field sheets
Resources
Enter your data directly into the MyWater portal, or if you're out in the field download this guide and use it to support your water monitoring.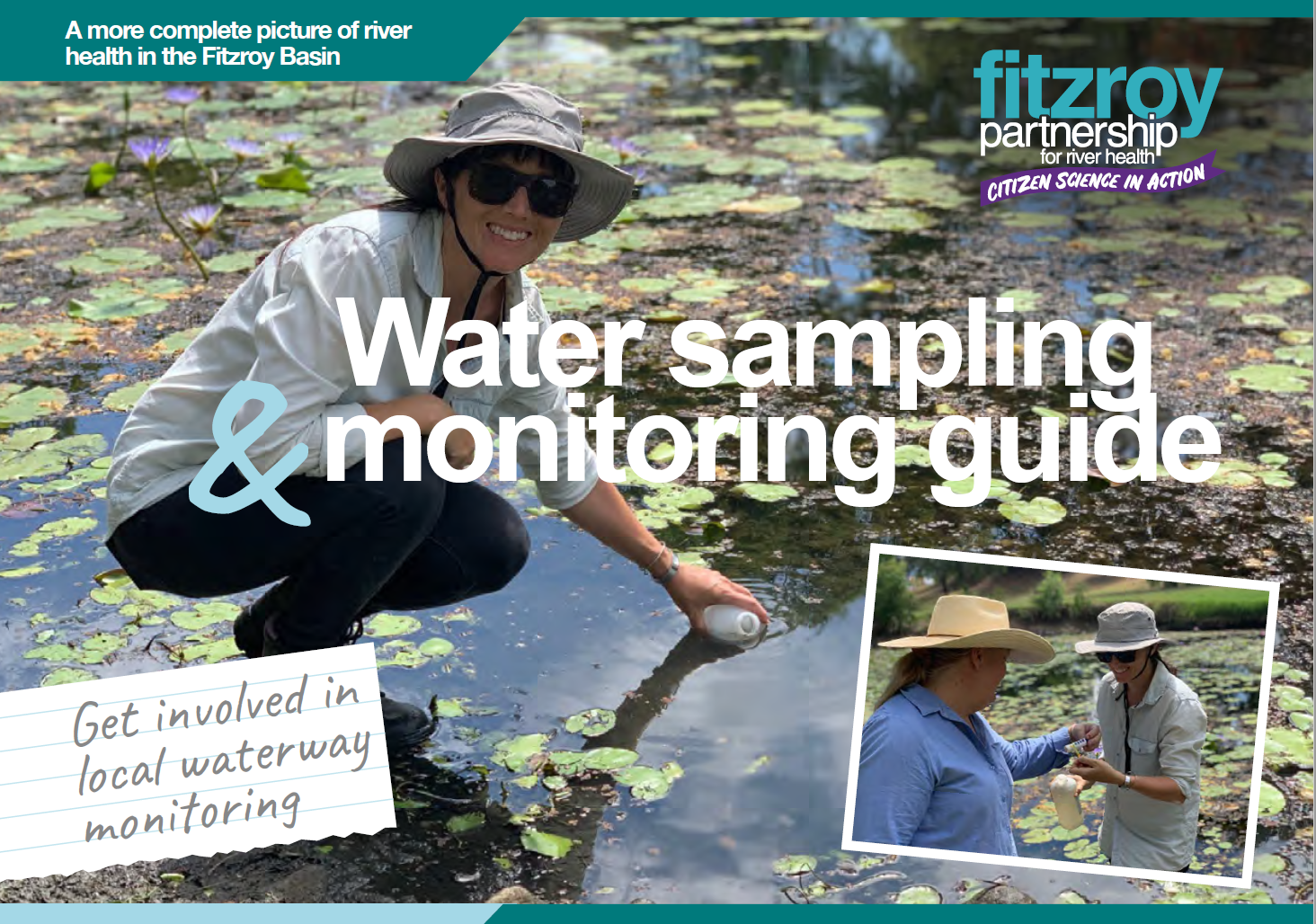 Water Monitoring in Action
We are proud of the range of schools, groups and individuals committed to monitoring data in the Fitzroy Basin. Well done and thank you to the following organisations and groups who have contributed data to our MyWater portal over time:
Cawarral State School
Central Highlands Cotton Growers and Irrigators Association/Central Highlands Science Centre
Rockhampton Grammar School
Marlborough State School
North Rockhampton Girls Guides
Gundoo Junior Rangers
And many more!
Total Recorder Sample Contributions
Partnership Resources
Fitzroy Partnership for River Health is proud of its work in providing a more complete picture of river health in the Fitzroy Basin. We not only work with our valued Partners but also engage with the community to foster greater awareness of waterway health. We have a Mindi the Barramundi Mascot and new Maisy the Mayfly large-scale board game to support the community in waterway health awareness. If you have a use for these resources at your school or next community event, please get in touch at leigh.stitz@riverhealth.org.au
Caveats for use
The results displayed above are based on data that has been collected by enthusiastic and dedicated members of the community. The MyWater portal and associated results are provided for educational and awareness raising purposes. No quality control measures have been applied to the data. As such the data is not fit for use beyond this stated purpose. There is no training requirement for community members or groups to enter data to the MyWater portal. Community members or groups using this site and conducting associated waterway testing do so at their own risk. As such, community members and groups must ensure they have appropriate levels of insurance and conduct activities according to their own risk and workplace health and safety procedures.
If in doubt, don't test your local waterways!