2015-16 Report Card Launch Coverage
Posted on August 1st, 2017
2015-16 Report Card Launch Coverage
With another successful year of reporting complete, the Fitzroy Partnership for River Health 2015-16 report card launch attracted attention from numerous local media outlets. Coverage of the launch included televised segments on both major local broadcasting stations as well as an informative radio interview with ABC for morning listeners. There was also an article written up in the Morning Bulletin containing a short video showcasing the report card launch and informative discussions surrounding water quality. It's great to see partners supporting the launch of the report card too – QRC's media release provides a quick summary of the launch and outlines some interesting highlights from the results.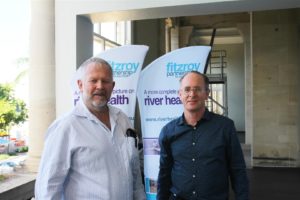 After great coverage of the initial launch, FPRH kept the ball rolling by erecting a stall at the Rockhampton River Festival with Mindi the Barramundi and Maisy the Mayfly. Mindi and Maisy had all of the kids smiling, with a few exceptions of hesitant children (it's not everyday you see a giant barramundi). Families enjoyed some quality time playing Maisy the Mayfly board game with prizes for everyone who played (parents especially enjoyed sitting back and relaxing for a while). Polaroid family photos were distributed with report cards attached to encourage recipients to have a read of the results and learn more about the partnership.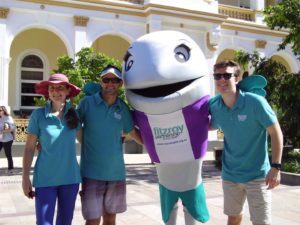 Following on from the River Festival, another stall was set up at the 2017 Fiztory River Water Barrage Open Day to promote the 2015-16 report card. The barrage open day invited members of the public to view the river from a different perspective by providing tours, education about water source and plenty of activities for kids. Over 150 report cards were distributed at the event including handouts for all kids who were willing to play the Maisy Mayfly board game. Engagement at the open barrage day was positive and members of the public were particularly interested in water quality information – likely due to water source being a key topic at the event.