MyWater
Upload data now
A more complete picture of riverhealth delivered to all by our community
Explore up-to-date waterway health results collected by passionate local communities. Better still, why not start collecting and sharing your own results! Some simple community based waterway tests have been developed to help check the pulse of your local waterway.
Already collecting data and ready to share it with the world!
View data from
Made a mistake?
Request for data to be changed or deleted here
How to sample – Get involved in local waterway monitoring today!
Enter your data directly into the MyWater community portal, or if you're out in the field download this guide and use it to support your water monitoring.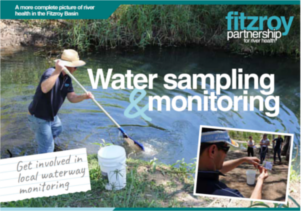 Community Sample Goal
Currently there are 43 samples that have been collected by various community monitoring groups throughout the Fitzroy region.
This is 20% of our sampling goal for this year.
Field Sheets and Equipment List
Download a field sheet and equipment list to help with your community monitoring
Caveats for use
The results displayed above are based on data that has been collected by enthusiastic and dedicated members of the community. The MyWater portal and associated results are provided for educational and awareness raising purposes. No quality control measures have been applied to the data. As such the data is not fit for use beyond this stated purpose. There is no training requirement for community members or groups to enter data to the MyWater portal. Community members or groups using this site and conducting associated waterway testing do so at their own risk. As such, community members and groups must ensure they have appropriate levels of insurance and conduct activities according to their own risk and workplace health and safety procedures.
If in doubt, don't test your local waterways!